Strategy 2017 - 2022
In June 2017, we published a new five year strategy, announcing an additional £20 million Strategic Fund, a Fellowship programme and a major data ethics initiative.
The strategy sets out our funding priorities following a review of how we can best interpret our original objectives in light of the rapid social, demographic, technological and economic changes in UK society.
Our research funding will focus on three core domains of Education, Welfare, and Justice. We will also fund work in areas that cut across these domains, in particular the impact on people's lives of digital technologies, social inclusion between and across generations, the significance of social geography in an increasingly diverse society, and the impact of disability and chronic illness.
We have updated our Guide for applicants to align with our new strategy.
We will launch a new programme of Nuffield Fellowships that will give space and time to those with an informed interest in the Foundation's agenda. We will announce the Fellowship application process and the initial call for applications to our Strategic Fund in 2018.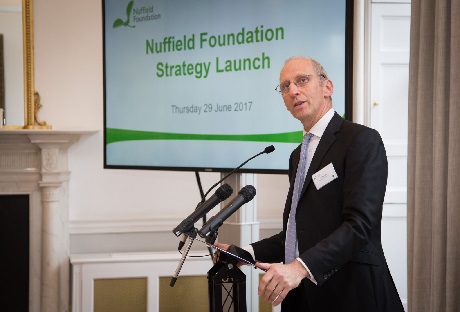 Building on the success of our student programmes – Q-Step and Nuffield Research Placements – we will develop new ways to equip young people with skills and confidence in scientific and quantitative methods by expanding into other disciplines and younger age groups. We believe these skills are essential for young people to be active participants in a knowledge economy.
Our strategy also identifies the implications of a data-driven society as one of our key priorities. We are developing plans to establish an independent Convention on Data Ethics, a deliberative body bringing together academics, policy makers and private sector interests.
Strategy launch event – 29 June
To mark the publication of our strategy, we hosted a reception for many of our closest partners, grant-holders and other stakeholders.
Following a welcome from our Chair, Professor David Rhind, Chief Executive Tim Gardam gave an overview of our strategic goals. Three of the Foundation's Trustees; Professor Anna Vignoles, Professor the Right Honourable Lord Justice Ryder, and Professor James Banks, gave their perspective on Education, Justice, and Welfare respectively. You can download their short speeches from the 'See Also' section to the right of this page.