Tom Hutchings
Tom spent his summer holiday working with Dr Matthew D Lloyd in the Department of Pharmacy & Pharmacology at the University of Bath. He worked on a study looking at ibuprofen metabolising enzymes.
Ibuprofen and related drugs are commonly used as painkillers and anti-inflammatory medicines. They exist in two different forms, which are inter-converted in the body in a process known as chiral inversion. Tom looked at two different human proteins responsible for this process. The first protein (AMACR) is responsible for chiral inversion of a derivative. However, the second protein, of which there are several different types, converts the derivative back to the drug once chiral inversion has occurred. There is currently a lot of interest in the chiral inversion process, as AMACR levels are increased in some common cancers and manipulating this process offers the possibility of improved treatments in the future.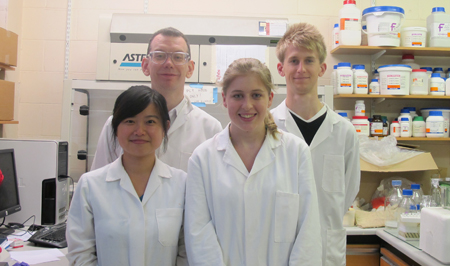 Tom with Dr Lloyd, Georgina Steel and visiting student Ping Jiao
Whilst on his placement, Tom worked alongside Georgina Steel, a sixth form student placed through the Nuffield Science Bursaries for Schools & Colleges Scheme. Dr Lloyd commented "For the student the Nuffield Schemes offer the opportunity to engage with real science, in a way which is not possible until the student undertakes a final year project or Masters level studies. The light assessment of the scheme is also beneficial as the student has the opportunity to explore the subject area without the pressure of having to write a dissertation, and this encourages curiosity and helps learning. For the supervisor the scheme offers a good mechanism for advancing their research and identifying potential PhD students. It is also really important to encourage sixth form students interested in science to go on and study science-based degrees, as they will be the next generation of researchers. Overall I think the summer project on ibuprofen was a very positive experience for all concerned."
Tom remarked: "I now have a far better understanding of university life beyond the realm of undergraduate studies, and a far better idea of what a science based career has to offer. As a result, I am considering whether I should do PhD training."
A paper based on Tom and Georgina's project has recently been submitted for publication.