Roxanne El-Hady: Young Scientist of the Year 2016
Roxanne El-Hady completed her Nuffield Research Placement in 2015 in the Department of Geography at Royal Holloway, University of London. She is currently volunteering, but has accepted a place at the University of Bristol to study Geology in 2017.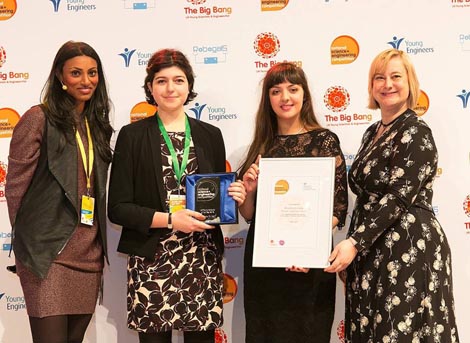 Why did you apply for a Nuffield Research Placement?
I wasn't sure what I wanted to do at university. I had some ideas about going into a STEM field, potentially geology, but I wasn't certain. A friend told me about the Nuffield Research Placements scheme and I thought it might give me a better idea, so I applied.
What was your project about and did you know anything about the area before you started the placement?
My project was about reconstructing rapid climate change in South Wales. I was part of a project providing the first complete record of long-term climate change in that region. I had no clue about the subject before I started! I didn't really know what to expect, but it was good to be challenged and learn something new.
Did you gain any new skills, both scientific and general work skills, from undertaking your placement?
I learned a lot about working in a scientific environment, particularly about the process of research itself. I was looking at a tiny part of a huge topic, and it was new to get into such a level of detail about it which is something you don't really do at college. The challenge of something completely new made it a really fun experience, and the science itself was really interesting to learn.
Has your experience helped you to decide on a career path?
The excitement of working with dangerous chemicals was obviously a selling point in pursuing a career in scientific research! It was the first step into studying Geology, which I will be studying at the University of Bristol from next year. I've now been exposed to one area of the research into climate change, but there's so much on offer that I'd like to keep my options open.
What advice would you give to students applying for a Nuffield Research Placement?
Get as much help as you possibly can, you aren't expected to know everything walking in. Try to enjoy it too; you won't get another opportunity like this! Finally, share it with your friends. Make sure you tell people about what you've done, as opportunities like this don't come up very often.
What was it like presenting your work at the National Science + Engineering Competition?
It was amazing! It was good to see all the other students there who loved STEM and actually did it in their spare time, and to learn more about the career opportunities available. I couldn't believe that I won Young Scientist of the Year 2016. Since then I've been able to travel to New Zealand and Samoa, which was an amazing experience. Being able to connect with even one individual where you might have made an impact makes being an ambassador such a rewarding experience. Being able to share the experience I've had and the value of it has been really rewarding, and it's been a great start to being a STEM ambassador.
See also
Printer-friendly version