Rebecca Martin
Rebecca Martin spent her summer working at Northern Ireland Water Laboratories, looking into the shelf life of analytical quality control standards. Rebecca is a student at Ballyclare Secondary School.
How did you feel on the first day of your placement?
Excited but apprehensive as I did not know what was expected of me. Initially I completed training and then started on my project which involved calibrating laboratory equipment, making up volumetric solutions and working with members of staff.
What did you learn from your placement?
I learned a lot about working as part of a team. I also saw how best to organise my time and found it really useful to work with laboratory equipment that I had previously only seen demonstrated. It showed me how important accuracy is in making solutions and keeping records. I enjoyed learning about science before but this placement allowed me to see that I would enjoy it as a career.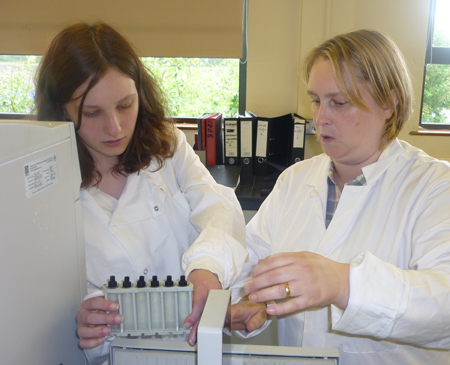 What do you want to do next?
I plan to complete my A levels and hopefully go on to university to study a science subject.
What advice would you give to others like you thinking of taking part in a summer research placement?Definitely go for it. It was so good to see what happens in a working laboratory. I gained skills that will be useful to me later and I was able to meet a wide range of useful contacts.