Poppy Bradley
Poppy Bradley completed her research placement at the Lungs for Living Research Centre at University College London. Her project was titled Characterising the difference in the rate of proliferation between paediatric and adult airway basal progenitor cells.
We talked to her about her time on placement and how it felt to win an award at the Big Bang Competition!
Why did you apply for a Nuffield Research Placement?
I have always really enjoying doing practical work at school, so I was looking further afield for something new to challenge me. I was also considering heading towards a career in research and at this point I was looking at the different paths I could take at university, so I thought gaining some first-hand research experience would benefit me in learning what it was really like to work in professional scientific research. As someone who also learns a lot from practical work, I hoped to extend my knowledge beyond my A-Level Biology studies and gain a high level of expertise in an area I may have not studied before in so much detail.
What was your project about and did you know anything about the area before you started the placement?
My project was investigating the biochemical differences between adult and paediatric airway basal progenitor cells. These are epithelial stem cells found in the trachea – the cells that line our airways. The airways are composed of distinct layers of tissue, and we were looking at the interactions in signalling between the stem cells and how they differentiated to become either ciliated cells (which move mucus away from the lungs) or goblet cells (that produce the mucus). I had only learned a little about stem cells at school before starting my placement, so I had to do a bit of reading beforehand to prepare. Furthermore, the findings of our work contributed to the development of tracheal transplants that could be used in the future as a therapy to help cure diseases such as long-section tracheal stenosis.
Was the placement what you expected it to be?
I wasn't sure what to expect going into the placement as I had never been in a proper academic lab before. However, when I was on my placement I felt so welcomed and included in the lab! I would attend weekly lab meetings and actively run my own experiments involving mainly tissue culture and microscopy. I especially loved the friendly and collaborative atmosphere in the lab and enjoyed talking to the other scientists about their work. The thing that surprised me most was the white, green and blue lab coats I had to wear depending on what part of the lab I was in!
How did your supervisor help you with your project?
My supervisor was so helpful in teaching me how to carry out the experiments so I could do them myself. These procedures can be quite complex, but it was a great experience in gaining a whole new skill set. She also gave me help and guidance on writing a scientific paper, gathering and collating data and how to analyse the data I had. This was great in extending my knowledge of planning experiments and presenting my findings.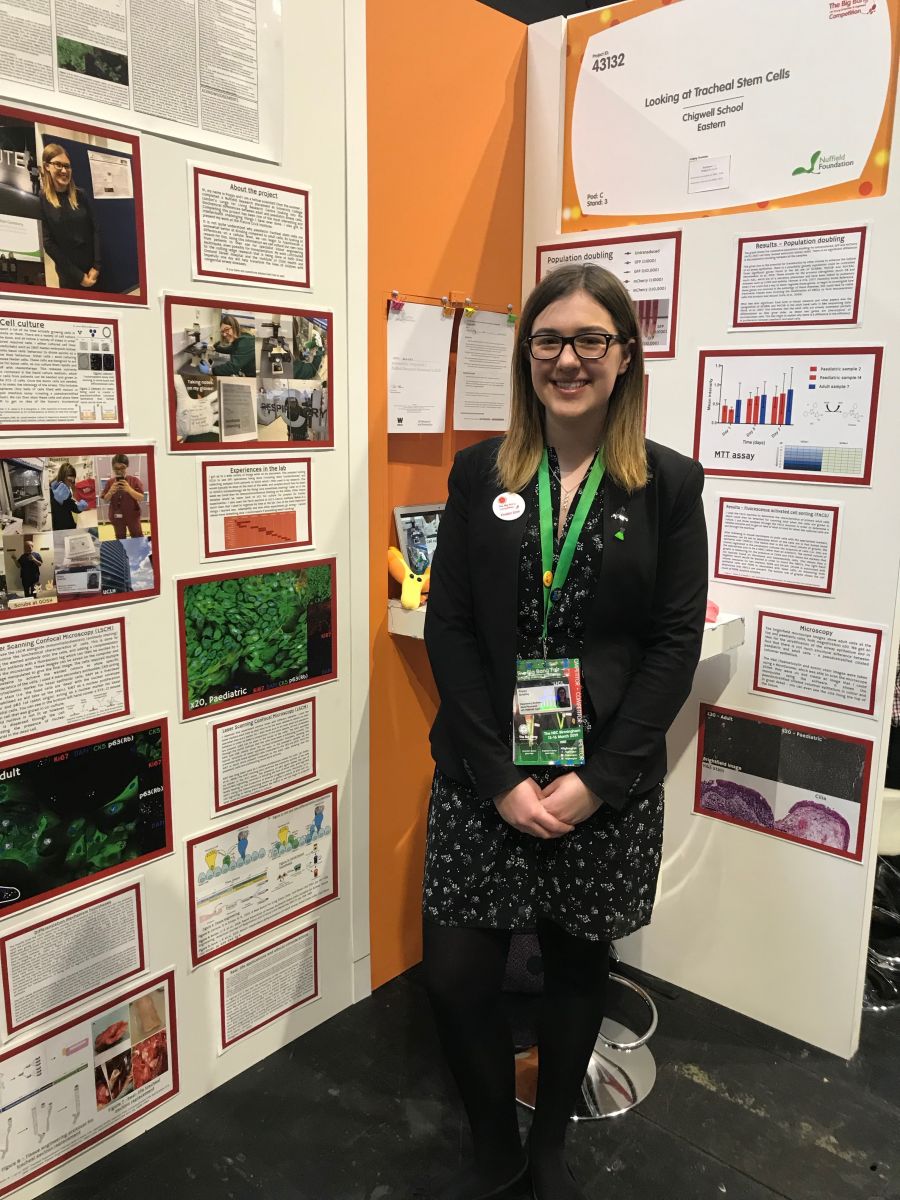 Did you gain any new skills, both scientific and general work skills, from undertaking your placement?
I learned lots new skills using lots of new scientific equipment that I would otherwise not have access to. This included doing laser scanning microscopy, immunohistochemistry, cell culture and MTT assays. I also became more confident in myself, as I had to attend lab meetings and work alongside a wide variety of people from different backgrounds and disciplines. I also learned great time management skills and being able to multi-task several things at once.
Has your experience helped you to decide on a career path?
Absolutely – since doing my placement I applied to study Natural Sciences at university and now I have an offer to study at the University of Cambridge. I hope to continue my work in biochemistry and maybe even specialise later on in stem cells and regenerative medicine. Since working in the lab, I learned just how much I enjoyed the environment I was working in and I certainly want to work in research and development, whether that be in an academic setting or in industry.
What advice would you give to students applying for a Nuffield Research Placement?
If you have an interest in STEM and love practical work, apply for a placement. It doesn't matter if you don't know much about your placement as you learn so much while you are there, and you really come to enjoy what you are doing. If you have a passion for something you should pursue it, because you meet so many amazing people along the way. I certainly say doing a Nuffield Research Placement is one of the best things I have ever done and I have learned so much, both about science and my personal skills.
What was it like presenting your work at The Big Bang Competition?
I had such an amazing time being able to present my work at The Big Bang Competition. It was such a privilege to be able to share my work and findings with such a large audience and I really enjoyed talking to other students, schoolchildren, teachers, parents and scientists about my project. I also met several other Nuffield Placement students and it was great to hear about everyone else's experiences and incredible projects they had worked on. The fair itself was incredible and I enjoyed exploring the stands and what was on offer. The judging process was a great challenge, but it was great to communicate my ideas. I was also lucky enough to come runner-up in the Senior Science category which I was so grateful to have won!