Nuffield Research Placements in the media
This page links to media coverage of Nuffield Research Placements year by year. It also features a list of journal articles to which students have contributed, as well as other publications they have been involved in.
2018 media |2017 media | 2016 media | 2015 media | 2014 media | 2013 media | Journal articles
2018 media coverage
The science star trying to crack mirror-image molecules (The Guardian, 30/04/2018)
2017 media coverage
Working with A Level students (Plymouth Biomed Blog, 06/11/2017)
Nuffield Summer Placements: How my interest in the brain led me to do a placement in Neurorehabilitation (The Brilliant Club, 23/10/2017)
A Summer of Genome Editing (University of St Andrews, 16/10/2017)
University robots to improve the care of older people, patients and autistic children (Edge Hill University, 11/10/2017)
Hosting Nuffield Research Placements (Kings Imaging, 02/10/2017)
Local Student in line for top STEM award (Tyrone Times, 12/09/2017)
Nuffield Research Student Placement (Wessex Archaeology Online, 11/09/2017)
2 A-Level Students Incognito at Bath Uni ('Let's Talk About Water' at University of Bath, 07/09/2017)
Local students in line for top STEM award (Northern Ireland Chamber of Commerce and Industry, 01/09/2017)
A-Levels 2017: Aspiring Newcastle scientist creates a Big Bang with exams success (Stoke Sentinel, 23/08/2017)
Nuffield Research Placements: "My experience at the Orthopaedic Research Institute" (Bournemouth University, 25/07/2017)
Gourock pupil is named one of UK's top scientists (Greenock Telegraph, 26/03/2017)
BBC Radio Scotland, (2017). 'Good Morning Scotland', BBC Radio Scotland. Available at:http://www.bbc.co.uk/programmes/b046kwpv [Accessed 23 March. 2017] Contribution by Marcus Boyd, NRP alumni and Big Bang Fair Winner.
How Earlham Institute influenced my career path (Earlham Institute, 08/03/2017)
Nuffield Research Placements: A 'Win Win' (BU Research Blog, 16/01/2017)
2016 media coverage
Alex aims to make life better for Northampton's cyclists (Northants Herald & Post, 02/09/2016)
Micro:bit Junkbot for use in schools (Robots and Physical Computing, 19/08/2016)
Teenager Roxanne El-Hady spent her summer holidays researching 8,000 years of climate change (Wales Online, 09/04/2016)
Local school pupil presents at national event with help from Leicester engineers (University of Leicester, 07/04/2016)
Nuffield placement student at the finals of National Science and Engineering Competition (Rothamsted Research, 11/03/2016)
2015 media coverage
Developing and Inspiring our Future Biostatisticians (MRC, 09/11/2015)
Exeter pupil awarded research placement (Exeter Daily, 12/10/2015)
Young Scientist of the Year reaches for the stars with top astronomers (RCUK, 02/09/2015)
Stevenage teenager determined to become an engineer after his MBDA experience (The Comet, 02/09/2015)
Hosting a Nuffield foundation project: my FAQ (Errant Science, 02/09/2015)
SIXTH-former swaps summer holiday for a role as a 'student doctor'. (The Bolton News, 27/07/2015)
2014 media coverage
BBC Radio 4, (2014). 'Chris Lintott', The Life Scientific. Available at: http://www.bbc.co.uk/programmes/b046kwpv [Accessed 8 Sep. 2015] Contribution by Chris Lintott, NRP alumni and project provider.
Kimbolton School student Michelle Meng wins award for research into motor neurone disease (Cambridge News, 25/11/2014)
Students celebrate British Science Association awards. (The Telegraph and Argus, 21/11/2014)
Student awards 2014: Alistair pumped up for top award (Nottingham Post, 17/11/2014)
High school students as research partners: working with Nuffield Placement Students (GEES-ology: Geography, Environment and Earth Science in action, 20/08/2014)
Is this Britain's brainiest pupil? 18-year-old achieves perfect A-level results of 100% in maths, physics, chemistry, biology and critical thinking (The Mail On Sunday, 19/08/2014)
Is Burnley student Asanish the brightest in Britain? (The Burnley Express, 18/08/2014)
Perception of science as a 'male subject' has to be reversed (The Telegraph, 14/07/2014)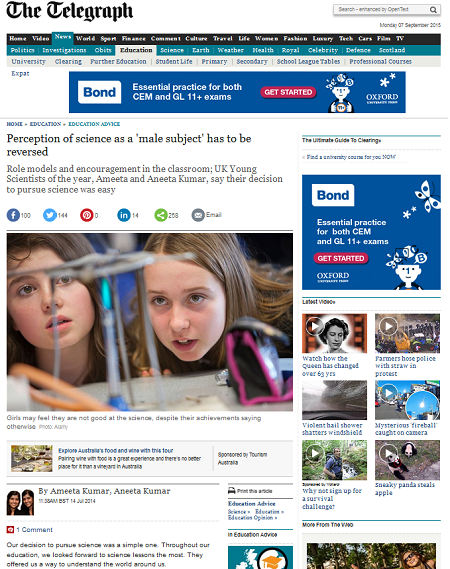 Crewe student makes huge impression at Big Bang (Crewe & Nantwich Guardian, 22/04/2014)
Top pupils picked for prestigious science placement (Crewe & Nantwich Guardian, 17/01/2014)
Gold medal performance for mathematician Xuesong at King's Lynn school (Lynn News, 14/01/2014)
Where there's a will there's a new app (Northwich Guardian, 09/01/2014)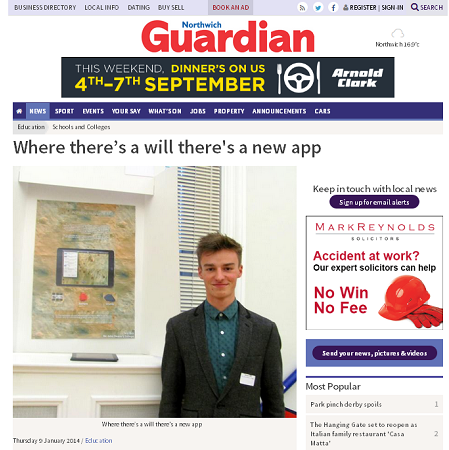 2013 media coverage
Hermitage teenager to battle for title Young Scientist of the Year 2014 (Newbury Today, 28/12/2013)
Tech whizz creates iPad app for classmates (Northwich Guardian, 20/12/2013)
Journal and other publication contributions
2017
Dash, W., Craven, Matthew J. (2017), Exploring Botnet Evolution via Multidimensional Models and Visualisation International Workshop on Security and Trust Management, Lecture Notes in Compute Science, 10547, pp 72-88 Contributions by William Dash, 2015 NRP student.
2015
Best, C., Arora, S., Porter, F. et al. (2015), The Relationship Between Subthreshold Autistic Traits, Ambiguous Figure Perception and Divergent Thinking J Autism Dev Disord, 45, 4064 Contributions by Shruti Arora, 2015 NRP student.
Hart, M.B., Cartwright, K., Fisk, B., Smart, C.W., Consolaro, C. and Hall-Spencer, J.M. (2015), Foraminifera of the Fal Estuary (Cornwall), including taxa associated with Maerl Beds Geoscience in South-West England, 13, 483-490 Contributions by Ben Fisk and Kai Cartwright, 2015 NRP students.
Robinson, S. (2015), 'Could you change someone's life this summer?', Astronomy & Geophysics, vol. 56, August, pp.2.13-2.14 Contribution by S. Robinson, NRP Manager.
Whitehorn, P.R., Cook, N., Blackburn, C.V., Gill, S.M., Green, J. & Shuker, D.M. (2015), 'Sex allocation theory reveals a hidden cost of neonicotinoid exposure in a parasitoid wasp', Proceedings from the Royal Society, vol. 282, April Contributions by Charlotte Blackburn and Sophie Gill, 2014 NRP students.
Pringle, J.K, Giubertoni, M., Cassidy, N.J., Wisniewski, K.D., Hansen, J.D., Linford, N.T. & Daniels, R.M. (2015), 'The use of magnetic susceptibility as a forensic search tool', Forensic Science International, vol. 246, January, pp. 31-42 Contribution by Rebecca Daniels, 2014 NRP student.
Noland, K. and Truong, L. (2015), A Survey of UK Television Viewing Conditions. London: BBC R&D Publications, pp. 1-50. Contribution by Louise Truong, 2014 NRP student.
2014
Pidgeon, L.M. & Morcom, A.M. (2014), 'Age-related increases in false recognition: the role of perceptual and conceptual similarity', Frontiers in Ageing Neuroscience, vol. 6, October Contribution by Andrew McIntyre, 2013 NRP student.
Welby, C.E., Armitage, G.K., Bartley, H., Sinopoli, A., Uppal, B.S. & Elliot, P.I.P. (2014), 'Photochemical ligand ejection from non-sterically promoted Ru(II)bis(diimine) 4,4′-bi-1,2,3-triazolyl complexes', Photochemical & Photobiological Sciences, vol. 13, March, pp. 735-738 Contribution by Harry Bartley, 2013 NRP student.
Hart, M.B., Stubbles, S.J., Smart, C.W., Fisher, J.K., Hoddinott, C., Marshall-Penn, I. & Yeo A. (2014), 'Foraminifera From The Fowey Estuary, Cornwall', Geoscience in South-West England, vol. 13, pp. 304-315 Contributions by Adam Yeo and India Marshall-Penn, NRP students.
Printer-friendly version