Dr Avice Hall
Principal Lecturer in Plant Pathology, University of Hertfordshire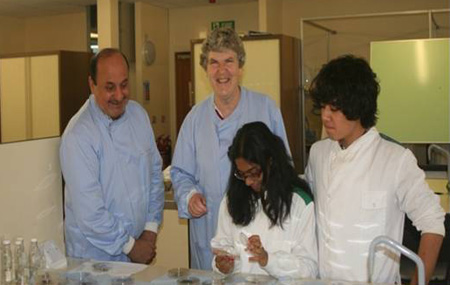 What type of projects do you offer?
My area of work spans the study and management of plant diseases. One of our current areas of research focuses on powdery mildew - a fungal disease affecting several important crops. Our investigations have centred on the control of the disease in commercial strawberry cultivation which is of great economic importance. Our Nuffield students work alongside professional plant pathologists and researchers, both in the lab and outside in our field centres. The work that they carry out is directly related to the research output of the department.
How do you develop a Nuffield project?
I try to break down a larger piece of ongoing work into an investigation that can be carried out in a four-week period. Often, these smaller studies will form part of a future line of research and so the students' work becomes a primer for further inquiry. For example, recent Nuffield projects have looked at the effect of adding a silicon nutrient solution to a crop of strawberries on shelf life and sweetness.
What would you say are the benefits to the Nuffield students taking part in the programme?
Participation in the programme gives sixth form students the chance to experience real-world research and learn about the challenges faced by professional scientists. They also gain valuable insight into the discipline needed when working in both laboratory and field-based research environments. I make a point of building a team of mixed ages and backgrounds to support our Nuffield students; this includes both undergraduates on work placements and research students. This teaches the students about the importance of teamwork in professional research. We have plenty of discussions with the Nuffield students about how to record experimental results, manage their time effectively, analyse their data and write up a scientific report – all of which are very useful skills for them to develop before they reach university or employment. Beyond the day-to-day work they carry out, the students get to experience university life and work with instruments that they wouldn't have used before at school or college.
How has the programme benefited you and your team?
Personally, I find the Nuffield programme a fantastic opportunity to enthuse sixth form students about the science of plants. On a purely practical level, it gives me the chance to do some investigative work which might not otherwise be done due to a lack of resources. The work of Nuffield students has often led to some interesting results which have formed the basis of further research and subsequent publication. Our undergraduate and research students get the opportunity to mentor the Nuffield students, helping them develop their own skills set, too.