David Skuse
Technology Director, Imerys Ltd, Par Moor Centre, Cornwall
"The Nuffield programme ensures that the young people we have working with us are amongst the brightest school students and very capable of working on our research and development projects."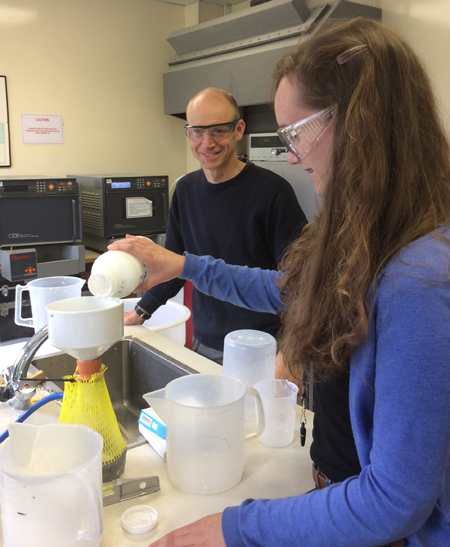 What type of projects do you offer and how to you formulate a research assignment for a Nuffield student?
As a company we have supported the Nuffield programme for several years now and we offer two placements each year. We give students the chance to investigate projects relevant to industrial chemical engineering. Usually they get to work on the development of new products by helping us to test out their physical characteristics and possible applications.
When planning a placement, we start by identifying a research question which needs answering for commercial reasons. For example, this year a student investigated how one of our existing products can be used to strengthen paper. The outcome of this project will have direct profitable applications. The other student worked on developing a method for staining individual mineral fibres which is an area we hadn't looked at before, and we were pleasantly surprised that they were able to achieve positive results within a four-week period.
What are the main benefits of supporting a Nuffield student?
All of the students who have worked with us have brought lots of energy to the team as they were always enthusiastic about the research work. If we have a question that needs answering, we know that a Nuffield student will be able to come in and devote their time to investigating a solution. The students gain experience of working in a real industrial research environment, giving them the opportunity to explore career options which they might not have otherwise considered. Having been exposed to the type of work which goes on at Imerys, we hope that they will come back and work for us in the future.
Has the experience of supervising a student aided the professional development of your workforce?
Having Nuffield students has given our newer team members the opportunity to develop their management and leadership skills which they wouldn't otherwise have had. It certainly helps people develop their organisational and time management abilities when they have to supervise students as well as management their own research projects, too.
Has this activity helped you to communicate your area of work to a wider audience?
Many people living in Cornwall think that Imerys is only in the business of mining clay. In fact, we work with a wide range of minerals and create lots of innovative new products. The general public think that there isn't any STEM (science, technology, engineering and mathematics) research going on in the region but, hopefully, that perception will change as we help local students see that we are doing real research right on their doorstep.
See also
Also on the web
Printer-friendly version