Nuffield Economics and Business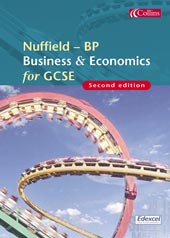 Directors: Nancy Wall, Jenny Wales, and Stephen Barnes
Economics & Business at GCSE and A-level was treated as a joint subject concerned with the study of how people make the best use of scarce resources. Economics analyses the principles by which resources in society are allocated. Business explores the decision taken by people and organisations during the actual allocation.
The aim was to make Economics and Business accessible, relevant and rooted in practice, proceeding from the concrete to the abstract. Students were to think through the concepts in a real world context. Topics include 'How is a profit made?' and 'What happens in booms and slumps?'
The project had a three-pronged approach: new courses, new resources, and training sessions for interested teachers.
Teaching and learning
The teaching and learning methods are captured in the phrase 'investigation, progression and integration'. Progression meant building up the level of difficulty by degrees, and this helped to make the course accessible and enjoyable for students. Integration of the two subjects meant that students could always draw on the insights of both subjects to illuminate the problem in hand. Investigation allowed students to take possession of their own learning process.
Resources
The advanced course was first published in 1994 with a second edition for Curriculum 2000. The GCSE course was published in 1994 with a second edition for Curriculum 2000. The texts for GNVQ Foundation and Intermediate courses were published in 2000.
The Nuffield Economics & Business team collaborated with Steve Hurd and teachers in Staffordshire to develop a data disc as a basis for analysis and investigations. The project continued to explore the potential of ICT in this field by developing a variety of interactive resources.
Outcomes
Nuffield Economics & Business A-level courses ran for fourteen years (1994–2008) while the GCSE courses ran from 1996 until 2009.
In both cases, the Edexcel courses that superseded them were very similar, and embodied much of both their content and their teaching and examining styles. This contribution seems likely to continue into the future. The influence is also evident in the content of other courses, particularly in relation to economic development and international trade.The textbooks for vocational business had a significant impact on teaching styles. Some teaching resources have been adapted for current courses and are accessible on websites.
See also
A longer version of the information on this page is also available to download as a PDF document:
Download Nuffield Economics and Business: A short history
Printer-friendly version